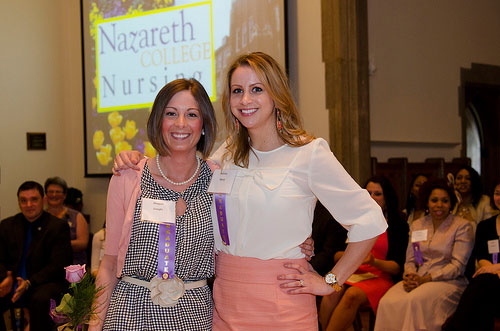 (Via)
There are many grants available for nursing students, but the cost of an education is very high, especially when a student needs to cover living expenses as well as educational expenses. Fortunately the Federal Government recognizes the need for more nurses and has several programs to support nursing education. In order to receive financial aid from the Federal Government, you must complete your FAFSA online at FAFSA.gov. Complete this application as early as possible after January 1. If you haven't filed your taxes yet, you can amend your application later. The following is a list of available Federal, State and Private Loans.
Stafford Loans, Including Discounted Stafford Loans For Nursing Students
The Stafford Loan is a Federal Loan available to all students attending college at least half time. For undergraduate dependent students a maximum loan of $31,000 total is available for all four years of school and $57,500 total is available for independent students. Graduate students may obtain a maximum of $20,500 per year and a maximum total of $138,000. Discounted Stafford loans are often a part of state based student loan programs. Ask your financial aid representative which options are available in your state.
Perkins Loans
Students with a great financial need may be eligible for the Federal Perkins Loan, which has a 5% interest rate. This is much lower than the 6.8% Stafford rate. There is limited availability for this highly in demand loan, so apply as early as possible. Your financial aid department should notify you about your eligibility shortly after admission. The highest amount for undergraduates is $4,000 per year and a maximum total of $20,000. Graduate students can borrow up to $6,000 a year or $40,000 total.
Federal Nursing Student Loans
As with Perkins, this program is only available to those with financial need. The interest rate is %5 and the maximum that can be borrowed is $4,000 per year.
State Loans
If you are attending an in-state institution, you may be eligible for additional tuition assistance. Each state has its own programs. The financial aid department at your school should be able to point you in the right direction.
Federal Loan Repayment
Most Federal Educational Loans can be consolidated and currently there are income based repayment programs which can help you repay your loans at an affordable rate if you are experiencing financial difficulty. In some cases the Federal Government has loan forgiveness programs, which involve working in high need "Public Service" locations. When the requirements for these programs are met, a student has the possibility of eliminating a great deal of student debt. However, these programs are only applicable for Federal Loans.
Federal Plus Loans
Federal Plus Loans will cover the cost of attendance (tuition+living expenses) for both graduate and undergraduate students. There is, however, a credit requirement. While your credit score is not very important, you must have paid your bills on time. Not everyone qualifies for this loan. For dependent undergraduates, one parent must sign to accept loan responsibility.
Private Loans
These loans generally have higher interest rates than federal loans and can cover financial obligations unmet by federal and state loans and grants. Many private institutions offer these loans. You can check with your school's financial aid department to see who they recommend. These banks are common private student loan lending institutions:Citibank, Wells Fargo and Bank of America.
Federal Nursing Education Loan Repayment Programs
This is a selective Federal Government program implemented to relieve the critical shortage of nurses by providing tuition assistance to nurses working in a Critical Shortage Facilities as well as nurse faculty. Participants receive 60% of their total qualifying nursing education loan balance in return for a two year commitment. Those willing to serve one additional year will be compensated with an additional 25 percent of their total qualifying nursing education loan balance. During this period of time, participants continue to receive their negotiated salary and benefits. Eligible applicants must be nurses with accredited degrees and licenses who are either employed full time at a non-profit Critical Shortage Facility or employed as a member of a nursing faculty. The applicant must also be either a US citizen or legal resident of the US. Preference is given to those with financial need. Applications are only accepted once annually, so please pay attention to requirements and deadlines.
Local loan forgiveness and cancellation programs are available in many states including Minnesota, Kansas, Iowa, New York, Arizona, Massachusetts, Florida, California, New Mexico and others. Look for your local state information to find out what's available and which facilities are approved for this program.