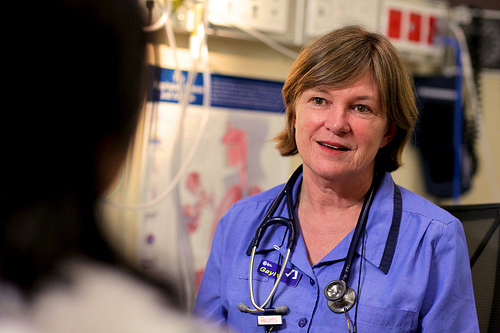 (Via)
The United States is experiencing an escalating nursing shortage. In the past nine years, the number of registered nurses (RNs) has rose, however it is not sufficient enough to meet the healthcare demands of an ever-increasing population. This is especially true of the baby boomer population, which is expected to rise nearly three times higher than the overall population. The enrollment of students in nursing universities and colleges in the United States have increased, but not nearly enough to cover the need. The American Association of Colleges of Nursing (AACN) is taking into consideration the nursing shortage and securing the assistance of policy makers, schools and corresponding organizations to try to churn out an increased number of nurses. In the United States, there are a few states where the nursing shortage is much worse compared to other states.
Featured Top Ranked Nursing Programs
1. California
In the state of California, there is a staggering amount of nurse-related jobs available. There is an estimated dire need of over 290,000 RN, 64,000 Licensed Practical Nurses (LPNs) and 83,000 CNAs. Former Governor Arnold Schwarzenegger, addressed the dire nursing shortage in 2005 by announcing the California Nurse Education Initiative. The Initiative provides $90 million over a five-year period via a public-private partnership to help decrease the nursing shortage.

2. Florida
With over three million residents 65 and older, Florida has the highest baby boomer population in the United States. According to a report by Florida Center for Nursing, Florida's nursing shortage is caused by the rising number of an aging population of baby boomers and the new requirements needed to enter a nursing school. By 2025, there will be a need for over 50,000 nurses in Florida.
3. New York
The battle for state funding of nursing degree programs and continued education rages on in New York. The nursing shortage has affected the healthcare of New York residents for over 20 years. The state has raised salaries and offered more benefits to attract more people to the nursing industry, however with the rapidly increasing baby boomer generation, it is becoming harder to keep up with demands. New York has established a task force to assist in reducing the nursing shortage. Estimated statistics show there is a need for over 196,000 RNs, 55,000 LPNs, and over 112,000 CNAs.
4. Ohio
Reports from Ohio hospitals show there are numerous nurse-related job vacancies, especially in the RN field. The average age of Ohio nurses are 47 years old, and 40 percent of them will retire in about 10 years, leaving a hole in the nursing industry. Ohio hospitals have united with Ohio community colleges and universities to develop nursing degree programs that will appeal to students. Moreover, many employers have boosted tuition reimbursement, salaries and incentives to retain and attract nurses.
5. Pennsylvania
The nursing shortage in Pennsylvania is similar to the national problem. In 2004, the Governor developed the Pennsylvania Center for Health Careers to help alleviate the shortage by finding qualified applicants to fill the over 17,000 nurse-related positions. In addition, Pennsylvania hospitals are doing their part to reduce the shortage by attracting and retaining more nurses approaches, such as flexible schedules, an opportunity to make decisions about their work environment, tuition reimbursement and payment for continued education.
6. Texas
The state of Texas is also affected by the national nursing shortage. The Texas Legislature developed the Texas Center for Nursing Workforce Studies as a response to the shortage, however the state cut funding for nursing education in 2011, increasing the nursing shortage. There is a dire need for over 22,000 full-time nurses, and this amount will increase to 70,000 by 2020 if not handled properly.
7. Illinois
Illinois has over 100 nursing schools offering various nurse-related programs. In an effort to reduce its nursing shortage, the state of Illinois offers nurses one of the highest hourly wages, student loan forgiveness programs, and a chance to choose their work environment.
8. New Jersey
In the state of New Jersey, over half of the RNs are between the ages of 46 to 50 and working over 10 hours a day. These nurses will be nearing retirement in a decade, causing New Jersey's nursing shortage to worsen. New Jersey has a $22 million Initiative to help reverse its nursing shortage. The Initiative is used for creating new curricula for advanced nursing degree programs, developing new concepts to attract and retain nursing faculty, assisting students in finding available programs, and to maintain an insightful website filled with nursing resources.
9. Michigan
Michigan is being creative with its approaches to reducing its nursing shortage. Lawmakers are deliberating whether to allow community colleges to offer four-year bachelor's degrees in nursing along with programs in other nurse-related fields.
10. Massachusetts
The State Senator of Massachusetts, Richard T. Moore introduced a bill as a response to the nursing shortage in 2005. The bill was created to increase the number of nurses, improve the tracking and distribution of the patient results and decrease nurse workloads.